EDFL Match of the Day and Finals series
The EDFL Match of the Day on Saturday 26 August is Premier Division, Airport West vs Greenvale, and on Sunday 27 August, the Division One Elimination Final, St Albans vs Hillside.
Live broadcasts kick off at 2:00 pm and stay tuned for the Post Game shows at 5:00 pm.
The Finals series for all EDFL Senior Men's divisions (Premier Division, Division One and Division Two) will be broadcast on Saturday 2 September, Sunday 3 September, Saturday 9 September, Sunday 10 September, Saturday 16 September, Sunday 17 September and Saturday 23 September.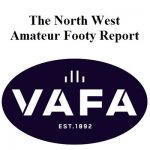 North West Amateur Footy Report –  Sundays 6:00–9:00 pm
Glenn "Scatters" Scarborough presents a review of the weekend's Aussie Rules matches in local amateur football (VAFA) and junior footy associated with member clubs.
Features results and interviews with players, coaches, officials and members of local clubs in the studio and talkback.