Colin Weidner passed away on July 21 from a severe stroke. He was 67 years of age.
He was also known as ColinCountry and he presented a Texas country music show called Texas Time Travelin' on 98.9 North West FM on a Saturday night for many years.
Col's promo for Texas Time Travelin'
Col joined North West FM in mid 2005 and presented a music program devoted to "people that should be Texans, could be Texans, would be Texans".
On this show you were likely to hear Tommy Alverson, Guy Clark, Heybale, Eleven Hundred Springs, Chris Wall and anybody else from Texas worth hearing.
Col covered country rock and the blues from the Lone Star State and he made several pilgrimages to Texas to the Tommy Alverson Family Gathering to find new music and old friends.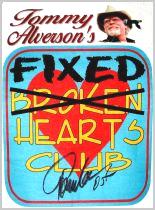 In mid November 2005, Col underwent quadruple bypass surgery and was back on air 3 weeks later. Tommy Alverson inducted Col into the "Fixed Hearts Club" and supplied Col with the official autographed T-Shirt.
Article by Frank McHugh